Stratego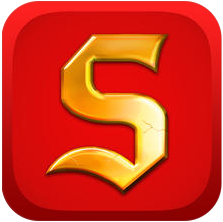 I composed music and created sound effects for this new version of the official Stratego app
by Jumbo and Youdagames.
Be sure to play it on your favorite platform!
App store: https://itunes.apple.com/app/stratego/id398975927?mt=8&uo=4&at=11lPJ8
Google Play: https://play.google.com/store/apps/details?id=com.youdagames.stratego
Renegade X

I composed music and created sound effects for Renegade X, a tactical 1st person shooter from Totem Arts.
Renegade X is a free Tactical Shooter that aims to brings the Command and Conquer FPS experience to the Unreal Engine 3. Renegade-X is developed by Totem Arts, an independent group of Command and Conquer fans from around the world dedicated to bringing the world of C&C to you, up close and personal.
Players will be able to join up to 40-players and fight for two unique teams - the Global Defense Initiative (GDI), a UN international military force committed to world order and peacekeeping, and the Brotherhood of Nod, a messianic international terrorist network that aims to push humanity into the next stage of human evolution.
Originally set to be remake of Westwood Studios' "Command and Conquer: Renegade", Renegade X has evolved into a spiritual successor to the 2002 classic. Renegade X recreates and modernizes the game's unmatched multiplayer mode.
The objective of the game is to destroy your enemy's base while protecting your own. Players will be able to manage their own economies, choose from over 30 weapons, 15 vehicles, and call in nuclear strikes, Ion Cannons, and airstrikes, and much more. Each team will have a base of operations that composes of several key structures. Each structure has its own purpose.
We believe that this gamemode - "Command & Conquer Mode" - can potentially revolutionize the FPS genre. It is the gem that went unnoticed for many years. Now is the time to uncover it.
The most current multiplayer beta can be found on the downloads page, along with the SDK which can be used to create custom maps and mods.
Chef's Diner: Food Rush / Youda Sushi Chef 2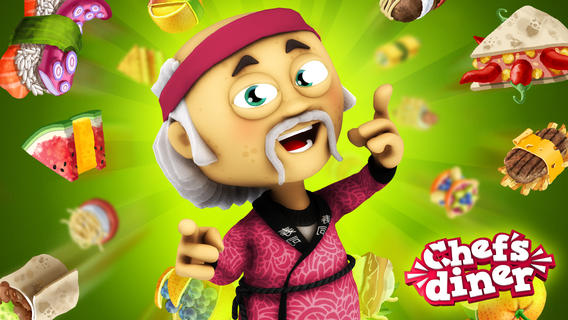 I worked as an Audio Director on this game from developer Youdagames.
Music and SFX by Zino van Hamersveld.
Game description:
Beat your boss and become the ultimate chef!
Step into the delicious world of Chef's Diner: Food Rush, where you put your culinary skills to use.
Prepare dishes in 6 restaurants all over the world. Learn mouth-watering recipes from the local
cuisines by heart. Serve a 'Diner Delight', the 'Venice pie' and a spicy 'Tortilla poncho'.
Don't forget to keep an eye on your supplies and order fresh ingredients on time.
Manage your restaurant like a pro.
Swarms of hungry customers take their seat in your restaurant. You'll have work fast to take orders
and serve the dishes to keep your customers happy and coming back for more.
Reservations and big orders start rolling in. Serve the correct sauces and drinks and be sure
to have at least one fresh cup of coffee in the machine!
Upgrade your kitchen to speed up preparation time, get a faster conveyor belt, and perform better tricks.
Purchase a better coffee machine and upgrade your telephone to order multiple fresh ingredients at once!
Get "Star power" to create irresistible puddings, instantly re-fill your ingredient stack, do magic tricks
or just freeze all customers to buy some time; anything is possible!
Earn enough stars to progress to the next level with even higher pace, more customers and new
unique tastes! Prove that you are the best chef and beat your boss in each restaurant's
final Boss Battle.
iOS game page
Windows game page
Legacy Tales: Mercy of the Gallows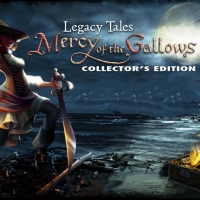 I composed the music and created the sound effects for this Hidden Object game from
developer Youdagames (additional sound effects by Zino van Hamersveld).
The Collector's Edition of the game includes the soundtrack as bonus content.
Game description:
Solve this pirate mystery to reunite two lost souls.
Follow the trail of clues to solve this untold story in Legacy Tales, Mercy of the Gallows.
Meet the ghost of a sad, young woman who needs your help and start this pirate adventure!
Why is she warning you about the captain and who is "the Raven"? Go inside the castle,
find your way to the mighty battleship, the Batavia, and unravel the mystery!
Strange things happen in and around the dark castle at the Dutch coast. Find out how
William van der Decken, famous for his battles against pirates, and his lovely wife Isabelle vanished.
What happened to her and why was the captain found dead, dressed as a pirate?
Go to game page
Youda Legend: The Curse of the Amsterdam Diamond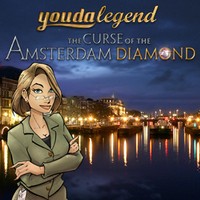 I wrote all the music and created the sound effects for this first Hidden Object game from
developer Youdagames.
Game description:
The dark influence of an old curse still taunts the beautiful city of Amsterdam.
Puzzling through old city mysteries and searching for clues you might be on the biggest quest
you have ever experienced.
Starting off as a tourist in Amsterdam, you sense there is something in the air! Once settled in your
hotel room, more and more mysteries reveal. Explore this city by combining clues and solving
puzzles. You have no choice but use all the knowledge and wisdom you may find during your
exploration. Passing by the most famous places in Amsterdam, like the Rijksmuseum,
the Flower Market and the Carre Theatre, you will solve the mysteries that finally lead you to the
greatest diamond you have ever seen!
The curse of the Amsterdam diamond has all the ingredients an hidden object adventure could
wish for. An eagles eye and common sense will lead you through an exciting adventure in the
beautiful city of Amsterdam. Hidden clues and tools will provide you enough rope to hold on to and
the amazing design will make your heart beat just a little bit faster.
Go to game page
Youda Legend 2: The Golden Bird of Paradise
The sequel to Youda Legend: The Curse of the Amsterdam Diamond.
I returned to Youdagames to write all the music and to create the sound effects for this game.
Game description:
Are you ready for a new adventure and give up your holiday to search for mysteries and reveal
another Legend?
After your city trip to Amsterdam, this time you have chosen for a relaxing holiday. A trip to tropical
paradise. No way anything will come in between that can disturb this! It all seems peaceful, but
again the journey will be nothing you expected it to be. The tropical environments will bring you
more than relaxing and cocktails at the beach... if only you knew. The jungle hides secrets you
don't know of, locals do know more, but do not reveal all... Questions rise, irreversible decisions
have to be made to finally reveal the mystery of the golden bird in Paradise.
The only thing you can be sure of... The Golden Bird has special powers that go beyond every
imagination.
Go to game page
Youda Mystery: The Stanwick Legacy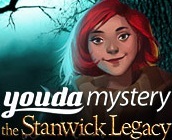 I wrote all the music and created the sound effects for this game.
The game got awarded the Dutch Game Award 2012 in the category 'Best Music & Audio Design'!
Game description:
Did Emma's granddad leave enough clues to let her reveal the real legacy?
After her parents mysteriously deceased when she was still a little child, her grandfather sent
Emma Stanwick to a boarding school.
Stanwick Manor, once a beautiful house and Emma's home, is now abandoned and empty.
The manor has been in the family for ages. Emma's great-grandfather also lived here before
she was born. She recalls her grandfather telling her that he was an inventor of some sorts:
"A bit of a mysterious man."
Recently her granddad died and she, being the last heir, inherits the manor. With mixed feelings
about it all, she goes back to her old home to find out if there is still any secret to reveal.
Her granddad said he told the whole story, but did he?
When her taxi approaches the house there is a strange light glowing through the windows.
As Emma enters the mysterious manor she hears a strange heartbeat like sound. What's going on?
During her search, Emma discovers that nothing is what it seems to be. Why is the fireplace lit?
What is the purpose of the strange piping, running through the house? Why do some of the paintings
move and what makes that heartbeat like sound?
Emma's memories of living in the manor make it possible to open secret locks and lead her further
into the house, revealing more and more secrets…Did grandfather leave enough clues for Emma
to reveal the real Stanwick Legacy and will she be clever enough to do the right thing?
Go to game page
Youda Sushi Chef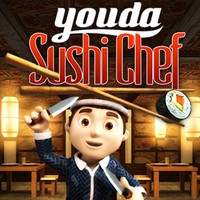 I wrote all the music and created the sound effects for this highly addictive Time Management
game from developer Youdagames.
Game description:
Youda Sushi Chef is a fun time management game. Your main goal is to keep your customers
happy and serve them the right dishes in time to reach your daily target. You really have to rely
on your memory skills. Extra features like reservations and take away orders coming in constantly
keep your adrenaline going.
You start your own sushi restaurant, build your sushi restaurant emporium and finally become the
one and only Sushi Chef! Serving your customers all kinds of sushi, your goal is to reach a daily
target. Every next level more sushi ingredients will be added and the more complex your sushi
making will be. To reach your target in higher levels you can buy upgrades to serve customers
faster, make combo's or serve some take-away meals to earn extra money. To keep your
customers happy you can decorate your restaurants, perform great knife tricks or serve some
sake while your customers are waiting.
The game consists of six beautifully designed restaurants, a great choice of different sushi recipes,
lots of bonuses, combo's and upgrades. Youda Sushi Chef outshines by beautiful design and a
challenging game play.
Go to game page
Youda Farmer 2: Save the Village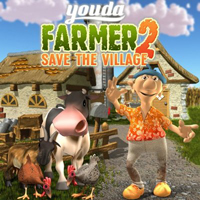 I provided additional sound effects to this sequel of Youda Farmer, a time management game
from developer Youdagames.
Game description:
Youda Farmer 2: Save the Village, offers you a great new farming adventure!
The Big Boss destroyed almost everything, so it's up to you to rebuild it all. Earn and invest your
money wisely, The Big Boss will grab every opportunity to execute his evil plans!
It's been a while since you left your lovely farm and village for a well deserved holiday in the sun.
Then all of a sudden the mayor calls! He sounds all but happy. An evil real estate developer
named 'Big Boss' has been destroying a lot of crops, stables and buildings at the village and
your farm! This can't be happening! There is only one thing you can do; You have to return to your
farm as soon as possible and stop the Big Boss from building ugly parking garages and ruining
your beautiful land!
Earn enough money to rebuild your farm. Collect wood and stone, to rebuild and upgrade your
farms and shops. Plan the most efficient routes to stay a step ahead of the Big Boss.
Prepare all new dishes to deliver and use the brand new recipe book to refine your tactics.
Receive the biggest rewards for making the best combo's, preparing and delivering dishes and
get all the 40+ golden medals. Replay levels to improve your achievements! Find paint buckets
to customize your truck in 12 different colors. Build 6 different machines to beat the Big Boss in
6 compelling mini-games!
Now… get ready for a whole new farming adventure and save the village!
Go to game page
Reserve Tank: VARIAtions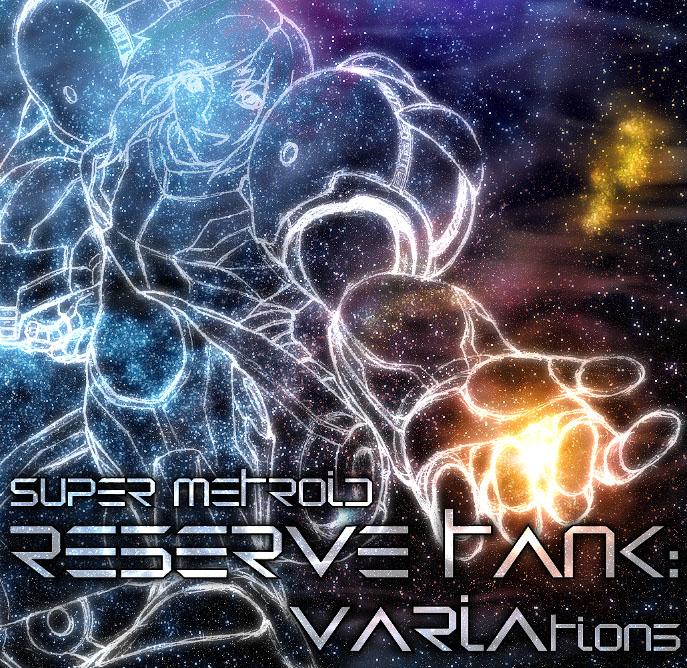 An OverClocked ReMix community project.
When bLiNd - a veteran OverClocked ReMixer - got health issues in mid-2009, I decided to
participate in this project (as "Mano").
DarkeSword took the initiative to gather the community to remix the soundtrack of Super Metroid
(SNES, 1994). This was one of bLiNd's favorite videogames on the SNES.
My contribution to the album is a dance remix of the "Brinstar Overgrown with Vegetation Area".